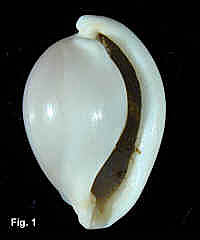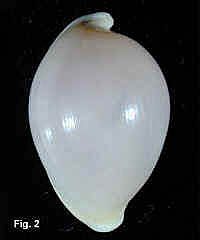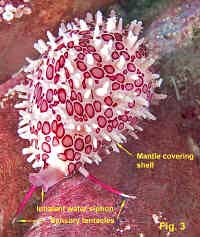 Prionovolva cavanaghi (Iredale, 1931)
Description: Shell smooth, polished. Outer lip nearly semicircular, folded in, thickened externally. Inner margin of outer lip smooth, not toothed, weakly crenulate in some specimens. Inner lip of aperture smooth. Anterior and posterior canals with strong folds on inner edge. Colour white, pink or pale purple, with outer lip callus white.
Size: Up to 17.5 mm in length, usually less than 12 mm.
Distribution: Endemic to Australia; North-West Cape, WA, to Bulli, NSW.
Habitat: On soft corals, intertidally and subtidally. Known from Botany Bay, living on soft corals at 10 m depth, and from Nelson Bay, Port Stephens, on the "cauliflower coral" Dendronephthya sp. (Smith, 2008) . Rare in NSW.
Figs. 1,2: Bare Island, Botany Bay, NSW, in 12 m (C.083302)
Fig. 3: Live animal; Nelson Bay, Port Stephens, NSW. Photo Steve Smith. Copyright Steve Smith.