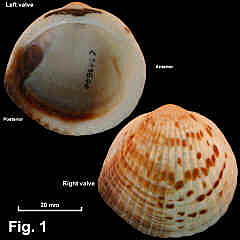 Tucetona flabellata (Tenison-Woods, 1878)
Description: Shell solid, heavy, equivalve. Shape subovate, anterior end smoothly rounded, posterior end slightly extended. Umbones low, centrally placed. Hinge line curved, 6-10 teeth each side, area between smooth. Ligament in a wide, triangular pit above hinge. Interior white splashed with brown; muscle scars well defined; margin coarsely crenulate. Exterior with 25-35 broad radial ribs crossed by fine concentric growth striae. Periostracum thin, velvety, restricted to near ventral margin. Shell colour white, with irregular concentric bands of reddish brown on radial ribs.
Size: Up to 51 mm in length.
Distribution: Sydney, NSW, southwards and around southern Australia to off Bunbury, WA, including Tas.
Habitat: Subtidal, records from 18 to 183 m. Rarely found as beach wash-up.
Fig. 1: Off Port Lincoln, South Australia (C.303540)