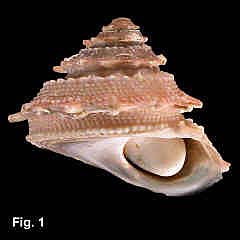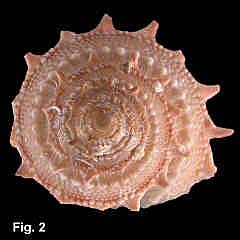 Bolma henica (Watson, 1885)
Description: Shell width about equal to height. Sculptured with open-fronted slightly downward directed spines on periphery of whorls; shallow concave groove below suture, with 5-10 spiral rows of beads below groove, the uppermost strongest. Concave beaded band below periphery, with sharp angle to base; base finely beaded. Umbilicus closed, columella smooth; columella callous extending onto base as white glaze. Outer lip thickened and reflected outwards in mature shells. Colour fawn, sometimes with pink tinge on spines, columella white, interior nacreous. Operculum calcareous, white, convex externally.
Size: Up to 22 mm high.
Distribution: Indo-West Pacific, including Japan and southern Africa; in eastern Australia, as far south as Clarence River, NSW, and Taupo Seamount (off Newcastle).
Habitat: Known from 350-650 m. Uncommon, but the Australian Museum holds one lot of about 100 specimens from off Clarence River, NSW.
Fig. 1,2: Off Clarence River, NSW (C.102074)