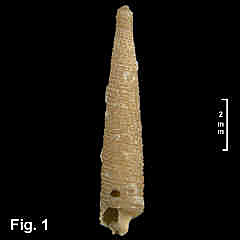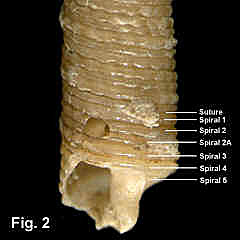 Inella obtusa B.A. Marshall, 1983
Description: Shell medium sized, sinistral. Protoconch lecithotrophic, about 3 whorls, with a strong spiral carina. Teleoconch whorls bear 5 spiral cords (numbered 1, 2, 2A, 3, 4) with elongate beads and weak axial costae. Spirals 1, 2, 3 commence immediately after protoconch, spiral 2A inserted between spirals 2 and 3 on 8th teleoconch whorl. Spirals 1-4 of similar size. Another 2 spirals on base (numbered 5 and 6), weak, smooth, 6 sometimes absent. Axial costae weak, 21 or 22 on penultimate whorl. Outer lip of aperture flared, anterior siphonal canal short. Colour yellowish brown.
Size: Adult shells 7.0 -9.1 mm in length.
Distribution: Known from only 2 specimens; Off North Head, Sydney, in 33 m (Holotype); off Avalon, Sydney, in 36 m.
Habitat: Subtidal.
Comparison: This is distinguished by its very long, slender shape with 5 spirals on the last teleoconch whorl and large, obtuse protoconch.
Figs. 1, 2: Off Avalon, Sydney, NSW, in 36 m (C.110858)