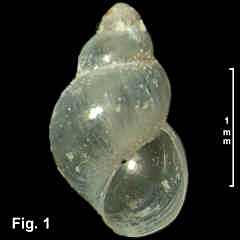 Rissoella secunda (Iredale, 1912)
Description: Shell minute, globose, variable in shape from squat to elongate, spire equal to or greater than aperture height. Protoconch of 1½ whorls, coiled about same axis as teleoconch but usually distinctly deviated. Teleoconch up to 4 whorls, whorls strongly convex, last whorl sometimes swollen, smooth apart from indistinct growth lines. Aperture wide, outer lip thin and simple. Umbilicus closed in elongate shells, or narrowly open in squat shells. Shell transparent, colourless, pale brown or pinkish, becoming opaque with age.
Size: Up to 3 mm in length, usually less than 2 mm.
Distribution: Kermadec Islands, New Caledonia, Lord Howe Island and Australia. In Australia, from Torres Strait, Qld, southwards to Batemans Bay, NSW.
Habitat: "On algae in the lower littoral and shallow subtidal" (Ponder & Yoo, 1977). Common.
Comparison: The species of Rissoella are difficult to separate positively without radula characters, but these features assist:
R. micra is the most easily identified as the shell is very small and brown in colour. Maximum shell length 1.1 mm.

R. secunda has a largest shell, occasionally up to 3 mm, but usually under 2 mm. The spire height is always greater than the aperture height.

R. fallax is relativly large with maximun height of 1.7 mm, with spire shorter than the aperture.

R. confusa robertsoni is relatively small, with maximum height of 1.1 mm, which is about the same as R. micra.
Synonymy: Previously recognised synonyms are Notosetia pellucida Laseron 1950 and Rissopsis puniceus Laseron, 1950.
Fig. 1: Port Stephens, NSW (C.355199).