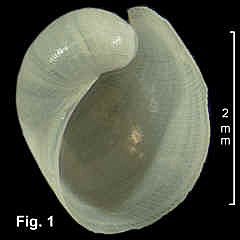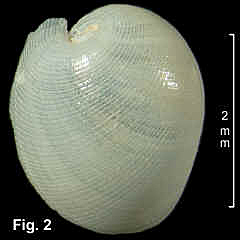 Philine teres Hedley, 1903
Description: Shell very small, lightweight, inflated, almost circular in ventral view, aperture very wide, outer lip semicircular, detached at top. Spire slightly sunken, outer lip raised a little above spire. Surface with fine, dense spiral riblets over whole shell, microscopically beaded, with interspaces of the same width. Shell colourless transparent, becoming opaque white with age.
Size: Up to 3.7 mm in length.
Distribution: The Australian Museum holds shells from Port Stephens, NSW, southwards to Wollongong, NSW.
Habitat: Subtidal, 15-200 m.
Figs. 1, 2: Off Broken Bay, NSW, in 143 m. (C.477675).