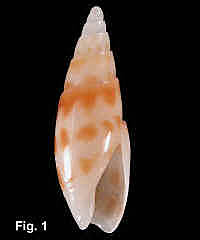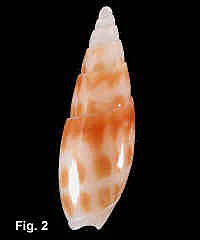 Belloliva triticea (Duclos, 1835)
Description: Shell tall and slender, glossy, whorls rounded, sutures deeply channeled, aperture one-third to one-half of total shell length. Outer lip of aperture smooth inside and out. Posterior canal deep, forming the channeled suture. Anterior canal short and wide. Columella smooth, concave, with a strong plait at the bottom. Fasciolar band thickly calloused, white, with a sharp edge commencing adjacent to centre of aperture. Protoconch and early spire whorls white; rest of shell covered with spiral bands of brown patches, variable in shape, often square or chevron shaped; two bands visible on spire whorls, three on body whorl. Patches in upper row often joined to make continuous brown band. Operculum horny, large, filling the entire aperture.
Size: Up to 11 mm in length.
Distribution: Endemic to Australia ; Clarence River , NSW, to Portland , Victoria .
Habitat: Occasionally taken as empty beach shells, but lives subtidally, down to 100 metres. Uncommon.
Figs. 1,2: Sydney Harbour (C.331031)