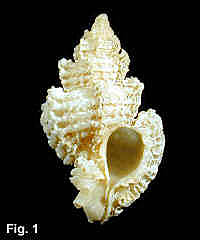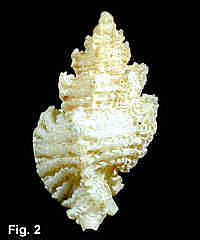 Murexiella phantom (Woolacott, 1957)
Description: Protoconch 1 1/2 whorls. Teleoconch whorls with rounded shoulders, with 4-6 varices per whorl. Spiral sculpture of strong foliaceous ribs occasionally bifid; 2-3 on spire whorls, six on body whorl and a further two on the base. Aperture oval, inner lip smooth; outer lip crenulate, with broad, low lirations internally, extending into aperture. Anterior canal open, in length about two thirds of aperture. Exterior colour cream. Interior of outer lip with brown patches on lower 2-4 lirations, and at posterior end.
Size: Up to 12 mm in length.
Distribution: Endemic to Australia; known from Angourie to Gerringong, NSW, and south-western WA, but probably occurs throughout southern Australia.
Habitat: In NSW, known only from beach shells, but in south-western WA, taken in 100-150 m. Uncommon.
Comparison: This species is very similar to Murexiella brazieri, but may be distinguished by differences in the protoconch and outer lip dentition. The protoconch in M. brazieri is 2 1/4 whorls, in M. phantom 11/2 whorls. In M. brazieri, the inside of the outer lip is white, with 4-5 almost circular denticles; in M. phantom it has weak, low, broad lirations extending into the aperture, the lower ones bearing brown patches. In shape, M. brazieri is narrower than M. phantom.
Fig. 1,2: Off Tathra, NSW, in 100-119 m (C.163446)