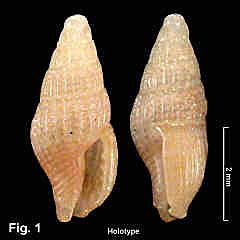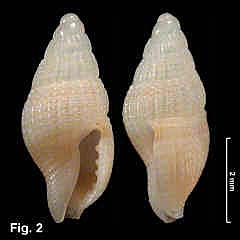 Retizafra plexa (Hedley, 1902)
Description: Shell translucent, fawn, whorls rounded, aperture more than 1/3 of shell length. Sculptured with axial ribs, about 20 on the body whorl, fading out towards base, crossed by fine spiral cords, weaker but of about same spacing, creating weak beads at intersections on strongly sculptured specimens; base with about 10 spiral cords. Outer lip sinuous in profile, with shallow sinus posteriorly. Lip thickened externally, and internally with 3-5 denticles, sometimes poorly developed. Columellar callus sharp edged, smooth. Siphonal canal slightly upturned, notch moderately deep. Colour fawn or white, with spiral bands of either colour.
Size: Up to 5 mm in length.
Distribution: Endemic to Australia; central NSW, but see remarks below.
Habitat: Sorted from beach shell grit. Rare.
Comparison: Retizafra multicostata (May, 1911) is larger, with finer spiral cords.
Remarks: The holotype of this species (Fig. 1) is a beach collected shell from Lady Bay, just inside the southern Headland of Sydney Harbour. In the Australian Museum collection there are only six specimens positively identified as this species; five are beach collected between Long Reef, Collaroy, NSW, and Ulladulla, NSW, and one is from 9 m in Sydney Harbour. However, there are several lots from central NSW in depths of 146-183 m which appears to be the same species, and a further lot from 200 m deep in South Australia. But it is difficult to reconcile the depth of these specimens with the beach collected type. The specimen figured by Wilson (1994, p. 108) under this name is not this species, but is probably an undescribed species.
Fig. 1: HOLOTYPE. Lady Bay, South Head, Sydney. Beach. (C.011441).
Fig. 2: Kurnell, Botany Bay, NSW (C.335122)