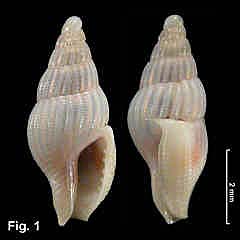 Retizafra multicostata (May, 1911)
Description: Shell translucent or opaque, creamish-white, whorls rounded, aperture more than 1/3 of shell length. Sculpture of rounded axial ribs, about 20 on body whorl, fading out towards base. Spiral sculpture of fine cords, absent on first 1 or 2 teleoconch whorls, sometimes confined to interspaces between axials; about 12 on penultimate whorl. Outer lip sinuous in profile, with shallow posterior sinus. Lip much thickened externally; a little thickened internally, with about 7 denticles along the whole length, the lower denticle edging anterior canal. Columella callus sharp edged, smooth; a weak plait beside anterior canal. Siphonal canal long for the genus, with outer lip constricted at base; canal slightly upturned, notch shallow. Colour white or cream, sometimes with a fawn band above the base and a fawn patch behind outer lip.
Size Up to 6.5 mm in length.
Distribution: Available specimens Cape Byron, NSW, southwards to Tathra, NSW. The type is from 100 fathoms off Cape Pillar, Tasmania.
Habitat: Known from 170-366 m. Uncommon.
Comparison: This is larger than Retizafra plexa, and has finer spiral cords.
Fig. 1: Off Sydney, 30 km E of Little Bay, NSW, 192-203 m (C.208327)