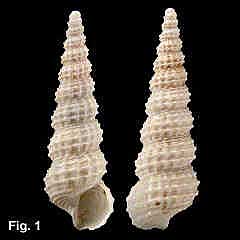 Glyptozaria opulenta (Hedley, 1907)
Description: Protoconch 1½ smooth whorls, teleoconch abou 9 whorls. Sculptured with 2 spiral ribs on early whorls, 3-4 on latter whorls, sometimes with a secondary thread between. Axial sculpture of weak ribs bearing beads at intersections with primary spirals. Body whorl with 3-4 beaded ribs above periphery, a strong smooth rib on periphery and several finer ribs below, these sometimes obsolete. Columella smooth, body whorl not expanded, outer lip thin, weakly crenulate, without varix. Anterior canal weak, broad and shallow; posterior canal absent. Colour white or fawn. Operculum corneous, circular.
Size: Up to 8 mm in length.
Distribution: Japan and Australia. In Australia, Capricorn Channel, Queensland, southwards to Port Davey, south-west Tasmania.
Habitat: Known from 10-549 m. Common.
Remarks: The shell is variable in strength of axial and spiral sculpture, either one predominating, and in the strength of the beads. In contrast to other genera of the Cerithiidae, species of this genus do not have the outer lip flared, thickened, or formed into a varix. This species was originally described in the family Turritellidae, but transferred to the Cerithidae by Houbrick (1981) after examination of the anatomy and radula.
Fig. 1: 1.6 km east of Malabar, NSW, in 66 m (C.409325)