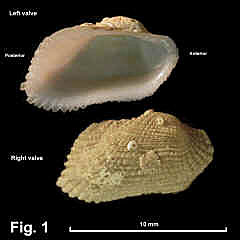 Acar botanica (Hedley, 1917)
Description: Small, very solid, equivalve, inequilateral. Shape elongate, umbones in front of midline, elevated, only slightly separated. Hinge line straight. Posterior end extended, sharply rounded, anterior end broadly rounded. Ventral margin weakly curved, sometimes concave at byssal notch. Byssal notch very narrow. Hinge with large teeth at ends, becoming smaller towards middle. Ligament external, narrow. Interior smooth, with marginal edge crenulate except in byssal region; anterior and posterior muscle scars almost circular, white. Exterior sculpture of coarse, strongly foliaceous concentric ribs crossed by fluted radial ribs. Periostracum thin, fawn. Shell colour white, in life obscured by periostracum.
Size: Up to 13 mm in length. The length of 10.27 mm given by Lamprell & Healy (1998) is apparently the size of the holotype.
Distribution: Known from Moreton Island, Qld, southwards to Torquay, Vic, and Tas.
Habitat: Lives in the low intertidal, under stones and among the seaweed Hormosira banksii on exposed rocky shores. Moderately common.
Fig. 1: Narooma, NSW (C.047133)