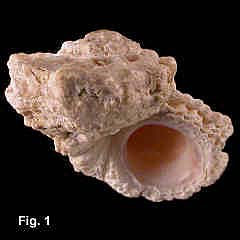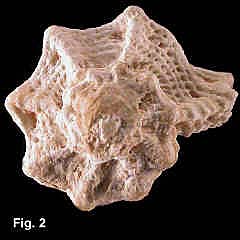 Liotina peronii (Kiener, 1839)
Description: Shell wider than high, with low spire, angled at shoulder. Spiral sculpture of two strong double ribs on periphery, a thick, low funicle around umbilicus with a row of deep holes above, and numerous finer spiral threads over whole surface. Widely spaced axial ribs, about eight on last whorl, cross shoulder forming spines on edge and continue over periphery and base to funicle; fine axial lamellae in interspaces. Aperture circular, surrounded by a double varix. Umbilicus narrow, deep. Colour fawn.
Size: Up to 13 mm high, 19 mm wide.
Distribution: Indo-West Pacific. In Australia, Fremantle, WA, around northern Australia to Mylestom (near Coffs Harbour), NSW.
Habitat: Intertidal and shallow subtidal, especially among seagrasses. Common in the tropics, rare in NSW.
Figs. 1,2: Dingo Beach, Queensland (DLB5109)