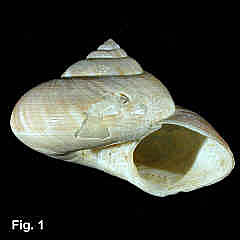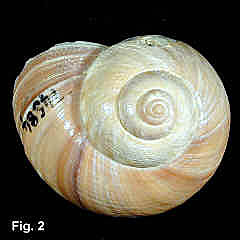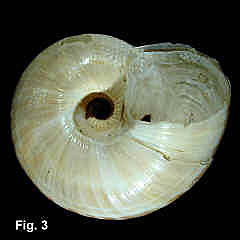 Archiminolia oleacea (Hedley & Petterd, 1906)
Description: Whorls rounded, polished; smooth or with fine spiral grooves, about 14 on penultimate whorl, sometimes restricted to lower half of whorls. Base rounded, with fine, obsolete spiral grooves. Umbilicus widely open, extending to apex; umbilical margin angled, or with nodulose rib. Outer lip thin, smooth internally. Colour fawn or tan, base lighter, usually white; umbilicus and aperture white. Interior nacreous.
Size: Up to 18 mm high, 23 mm wide.
Distribution: Endemic to Australia; known from Lady Musgrave Is, Qld, to Norah Head, NSW, and off Cape Wiles, SA.
Habitat: Recorded from 150-1060 m. Rare.
Figs. 1,2,3: Off Norah Head, NSW, in 256 m (C.074584)