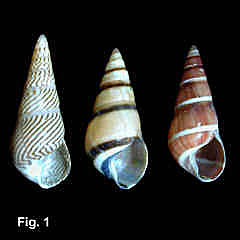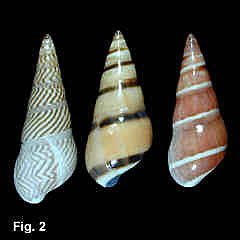 Bankivia fasciata (Menke, 1830)
Description: Whorls slightly rounded, smooth, shining, unsculptured. Columella smooth, outer lip thin and smooth. Umbilicus closed. Colour extremely variable; uniformly white, pink, grey, purple, brown or black, or spirally banded, or with axial zigzag streaks.
Size: Up to 23 mm.
Distribution: Endemic to Australia; Tweed Heads, NSW, to SA, including Tas.
Habitat: Occurs in large aggregations in fine sand, subtidally down to a depth of about 15 m. Abundant.
Remarks: This is a very common shell, being washed up on beaches in large numbers. It was previously thought to live on kelp, hence the common name of banded kelp shell, but actually lives in the sand just outside the breaker zone of ocean beaches.
Figs. 1,2: Shelly Beach, Port Macquarie, NSW (C.350426)