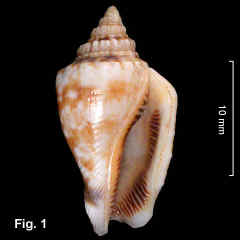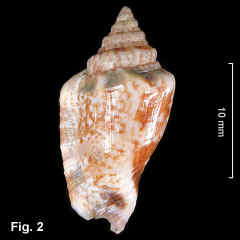 Strombus microurceus (Kira, 1959)
Description: Spire whorls nodulose. Last whorl nodulose on shoulder, except for last ¼ of whorl, last 2 nodules strongest; base with spiral cords. Aperture long and narrow, with stromboid notch deep, posterior canal narrow and shallow. Columella with thick, sharp-edged callus, outer edge yellow or orange, inner region purple-black with yellow or white lirae along whole length but weaker in middle. Outer lip greatly thickened externally, with spiral cords on thickened region; internally, coloured and sculptured as columella. External colouration very variable; fawn, variously spotted, mottled or striped with tan or dark brown; purple patch on anterior canal. Operculum corneous, long, thin, serrated. Periostracum thin, smooth, translucent yellow.
Size: Up to 31 mm in length, commonly 20-25 mm.
Distribution: Indo-West Pacific. In Australia, Ashmore Reefs, north-western WA, around northern Australia, to Botany Bay, NSW.
Habitat: In Queensland, lives in sand pockets on reef flats, intertidal and shallow subtidal. (I. Loch, pers. com.)
Comparison: This species is similar to S. mutabilis but is smaller, the aperture colour is different, and there is a purple blotch on the outside of the anterior canal. In S. mutabilis there are no nodules on the shoulder on the ventral surface of the last whorl, but in S. microurceus the shoulder nodules continue from the spire whorls onto the last whorl, only fading out on the last ¼ whorl.
Synonymy: Listed in Iredale & McMichael's checklist as Canarium urceus (Linnaeus, 1758), which is a misidentification.
Fig. 1,2: Hastings Point, NSW (C.211095)