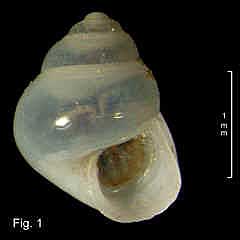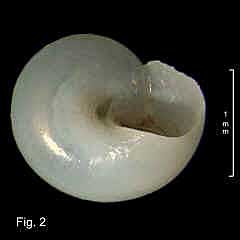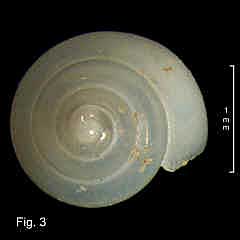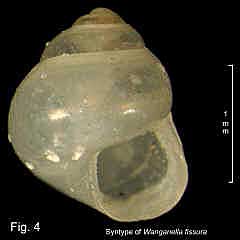 Putilla porcellana (Tate & May, 1900)
Description: Shell minute, spire convex in outline, height to width ratio 1.3. Protoconch a little elevated, smooth, with distinct junction with teleoconch. Teleoconch up to 3 whorls, whorls rounded, suture shallow. Whorl surface smooth, without axial or spiral sculpture. Umbilicus narrowly open, with 3 or 4 spiral ribs internally, commencing at lower inner lip of aperture. Aperture with peristome not entire, body whorl with thin callus, posterior canal well-defined; outer lip thickened internally, inner lip reflected over umbilicus. Shell colourless transparent with opaque band at suture and opaque base when fresh, becoming opaque white with age.
Size: Up to 2.3 mm high.
Distribution: Endemic to Australia. Central Queensland, southwards and westwards around southern Australia to near Esperance, southern WA, including Tasmania.
Habitat: A few specimens are from beach washup, but most are subtidal, from 5-183 m. Common.
Comparison: This species is similar to Eatoniella galbinia (Laseron, 1950) in the Eatoniellidae, but that has a narrower umbilicus and less well-defined posterior canal.
Synonymy: Rissoa pertranslucida (May, 1913) has previously been recognised as a synonym. Wanganella fissura Laseron, 1954 (Fig. 4) is a synonym (NEW SYNONYM). Laseron differentiated this by writing "shell substance moderately thick", but shells of this weight are not unusual among P. porcellana specimens. He also referred to "inner margin [of aperture] vertical", but I cannot see this character in his syntypes. Conicella lacuna Laseron, 1954 is probably also a synonym of this species; no specimens have been recognised apart from the type. The type specimen has three severe growth breaks in the shell, and may be a distorted specimen of P. porcellana.
Figs. 1, 2, 3: Off Avalon, Sydney, NSW, in 36.5 m (C.216709)
Fig. 4: 4772-1 SYNTYPE of Wanganella fissura. Port Stephens, NSW, shell sand (C.101112)