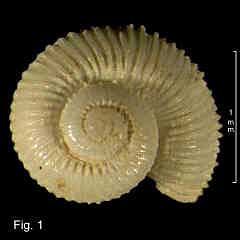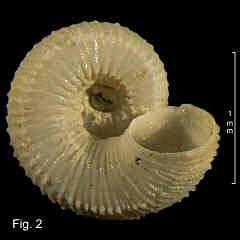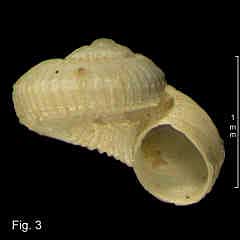 Liocarinia disjuncta (Hedley, 1903)
Description: Shell minute, spire moderately elevated. Protoconch smooth, with distinct transition to teleoconch. Teleoconch up to 2¼ whorls, last ¼ whorl descending in large shells. Whorls angled at periphery, base and umbilical margin; rounded above periphery, straight or concave between periphery and base, straight or rounded on base. Sculpture of axial ribs, about 50 on last whorl; ribs extending as denticles or lamellae on whorl angles. Spiral sculpture absent. Umbilicus open, wide. Aperture entire, round, thin or thickened by normal rib. Shell white or fawn, opaque.
Size: Up to 1.7 mm wide, 1.2 mm high.
Distribution: Known from only 4 lots. Off Cape Three Points, NSW, 75-91 m (holotype and paratype); off Cape Moreton, Queensland, 128-183 m; east of Wollongong, NSW, 281 m; . south-east of Cape Everard, Victoria, 165-274 m.
Comparison: Liocarinia radiata (Hedley, 1907) is similar, but the whorls are more sharply angled. It occurs in Queensland, but is not known from NSW.
Synonymy: None.
Figs. 1,2,3: 27 miles SE of Cape Everard, Victoria, in 165-274 m (C.356373)