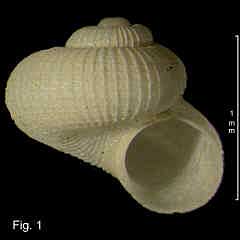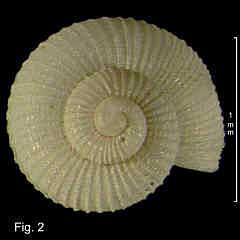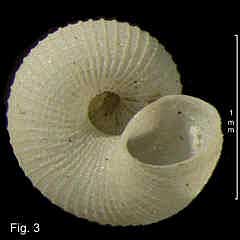 Brookula denselaminata (Verco, 1907)
Description: Shell minute, tall for genus, height to width ratio in range 0.8 - 1.0. Protoconch smooth, elevated. Teleoconch up to 2¼ rounded whorls, suture deep. Axial sculpture of low, thin ribs, extending from suture into umbilicus, about 50 on last whorl. Interspaces between axials about 3 times rib width, with fine spiral threads at similar spacing to that of axial ribs, or closer. Umbilicus open, wide. Aperture circular, margin entire, either not thickened or with normal rib. Shell colourless transparent when fresh, becoming opaque with age.
Size: Up to 1.2 mm in height.
Distribution: Endemic to Australia: Yamba, NSW, southwards and around southern Australia as far as Great Australian Bight, WA, including Tasmania.
Habitat: Known from 3.5 - 180 m. Uncommon.
Comparison: See B. angeli.
Synonymy: None
Figs. 1,2,3: North of Coffs Harbour, NSW, 61 m (C.216077)