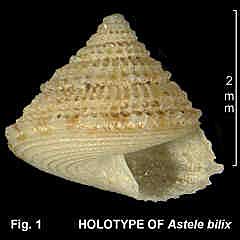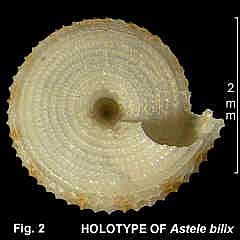 Calliobasis bilix (Hedley, 1905)
Description: Shell slightly wider than high, spire outline almost straight. Protoconch of one finely granulate whorl, with well-defined junction to teleoconch. Teleoconch up to 6 whorls. Early spire whorls with two spiral cords, increasing to four on last whorl; last whorl with additional cord just below periphery. Axial sculpture of strong, elevated curved ribs, continuous from whorl to whorl, forming peaks at intersections with spiral cords. Base slightly rounded with 8 spiral cords, weakly beaded at intersections with radial threads. Umbilicus open, edged by strongly toothed cord. Aperture subrhomboidal; outer lip unknown (broken on all available specimens). Colour opaque fawn, holotype with squarish brown patches regularly spaced on periphery of last whorl.
Size: Up to 3.2 mm high, 3.6 mm wide.
Distribution: Known from five specimens from two lots. Holotype from east of Cape Byron, NSW, in 203 m; 4 specimens from 22 miles east of Narrabeen, NSW, in 146 m.
Habitat: Known from 146-203 m. Rare.
Synonymy: This species has previously been considered to be a variety of the Eocene fossil Basilissa radialis Tate, 1890, and, by other authors, a synonym of the South Australian species Basilissa bombax Cotton & Godfrey, 1938. However, Marshall (1983), when erecting the genus Calliobasis, regarded these three taxa as separate species - C. radialis (Tate. 1890), C. bilix (Hedley, 1905), C. bombax (Cotton & Godfrey, 1938).
Figs. 1,2: 4786-1, 4787-1 HOLOTYPE 12.4 miles SE Cape Byron, NSW, in 203 m (C.019840)