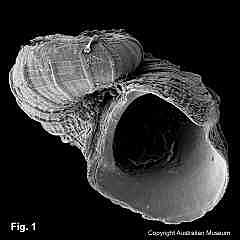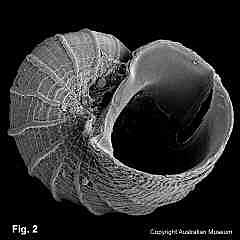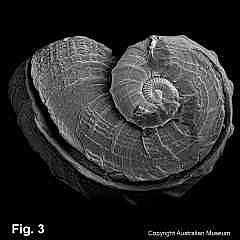 Scissurella cyprina Cotton & Godfrey, 1938
Description: Shell trochiform in shape, wider than high, spire very low, flat, or sunken, aperture large. Protoconch 1.25 whorls, with dense, strong axial threads. Last whorl with strong axial folds initially, becoming restricted to the base and fading out on last quarter; sometimes fine spiral threads above and below shoulder. Slit in margin above periphery of whorl; selenizone behind slit, with moderately raised flanges. Umbilicus deep, without bordering keel, with smooth curve from base. Operculum corneous. Shell colour white.
Size: Up to 1.5 mm in height.
Distribution: Endemic to Australia; Sydney, NSW, to North West Cape, WA.
Habitat: Known from beach specimens, shallow water algae washings, and down to 220 m. Moderately common.
Comparison: Among the NSW scissurellids, identified by the marginal slit and strong sculpture.
Figs. 1,2,3 Cape Peron, 56 km S of Perth, WA, in 0-4 m (C.377559) (SEM Photos D. Geiger)