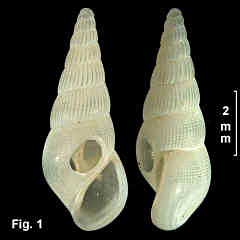 Rissoina (Rissoina) elegantula Angas, 1880
Description: Shell with spire almost straight sided. Protoconch of 2¼ whorls, with distinct junction with teleoconch. Teleoconch of 5½ - 8 weakly to moderately convex whorls. Whorls sculptured with fine, narrow axial ribs, fading out below periphery on last whorl; spiral sculpture of fine, closely spaced threads, about 20 on second-last whorl, more prominent on base of last whorl; axial and spirals about equal strength on second-last whorl, producing clathrate sculpture. Aperture lens or D-shaped, with broad anterior canal and narrow posterior canal; outer lip expanded, not thickened and smooth internally, with strong, low, wide varix externally; inner lip callused, thickened at top and bottom. Colour uniformly white, translucent when fresh, becoming opaque with age.
Size: Up to 9. 3 mm in length, commonly 6-7 mm.
Distribution: Endemic to Australia; Port Stephens, NSW, southwards and around southern Australia, then northwards to Onslow, WA; also Tasmania.
Habitat: Mainly known from empty shells from beach washup, but there are a few subtidal records down to 77 m. Moderately common.
Comparison: This species is distinctive within the genus, having the spire almost straight-sided, and fine axial and spiral sculpture.
Synonymy: None.
Fig. 1: Point Halliday, NSW (C.349057)