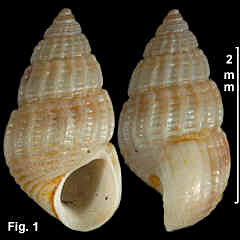 Alvania (Alvania) novarensis Frauenfeld, 1867
Description: Shell relatively short and wide, spire strongly convex. Protoconch of 2 whorls, smooth except for a few spiral threads on last half-whorl; junction with teleoconch distinct. Teleoconch about 4 convex whorls, angled at top and bottom. Axial sculpture of strong ribs, about 12-20 on last whorl, fading out at periphery of last whorl; spiral sculpture of strong cords, about 6 on second-last whorl, sometimes restricted to interspaces between axials, otherwise crossing axials and forming beads at intersections; 6 or 7 further strong cords on base. Aperture ovate, with well-defined posterior canal; outer lip with very strong varix externally and about 5 lirae internally in the most mature shells. Shell usually opaque, translucent when fresh; fawn, sometimes with broad spiral brown band at top of last whorl and on base.
Size: Up to 3.3 mm in length.
Distribution: Endemic to Australia; Cape Naturaliste, south-western WA, northwards and around northern Australia, and then southwards to Gabo Island, Victoria.
Habitat: On algae, intertidally and down to about 50 m, most frequently in estuaries but also on the open coast. Common.
Comparison: This is the largest and by far the most common species in the genus.
Synonymy: Rissoa trajectus Watson, 1886 has previously been recognised as a synonym. Haurakia firma Laseron, 1956 is a synonym based on usually heavy specimens with strong axial sculpture, but these fall within the range of variation of the species (NEW SYNONYM). Haurakia formosita Laseron, 1956 is another synonym, based on specimens from Michaelmas Cay, Queensland, which were described as having "much finer" sculpture, but these also fall within the range of variation (NEW SYNONYM). The subspecies Haurakia novarensis trajectus (Watson, 1886) was described as a "geographical race" from northern Australia, being slightly smaller, a little heavier, and with a stronger varix compared to the typical form from NSW; whether it deserves subspecific separation is yet to be determined.
Remarks: This species is recorded from Tasmania (Thouin Bay, 40 fathoms) by May (1923), but that locality does not agree with the northern Australian range recognised here. But May's figure is a good likeness for the species, so the record cannot be dismissed out of hand. However, the species is not recorded from Victoria by Macpherson & Gabriel (1962). The wide geographic and depth range over which this species is recorded is suspicious, suggesting that more than one species is involved.
Fig. 1: Pittwater, Broken Bay, NSW (C.337428)