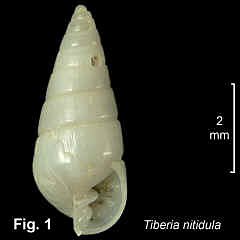 Tiberia nitidula (A. Adams, 1860)
Description: Shell large, wide, spire straight-sided, up to 8 whorls, last whorl almost ½ of total shell length. Protoconch (type B) coiled, of about 2 whorls, set on teleoconch with axis inclined at about 140° to teleoconch. Teleoconch whorls straight-sided or weakly rounded, suture strongly indented, whorls smooth, without sculpture. Aperture wide, columella with a strong plait and 1 or 2 weaker plaits below; inner lip reflected outwards below plait. Umbilicus open behind reflected inner lip. Shell white.
Size: Up to 8 mm in length.
Distribution: First described from Japan, this species appears to have a wide distribution on the continental shelf and slope in both the northern and southern hemispheres. In Australia, it is known from off Lady Musgrave Is., Qld, southwards to off Nowra, NSW.
Habitat: In NSW, known from the continental shelf and slope, in 50–1600 m. Very uncommon in NSW.
Fig. 1: Off Port Stephens, NSW, 45–73 m (C.342930).