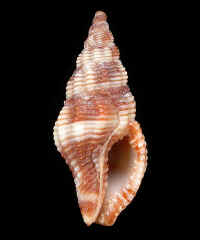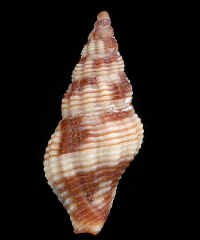 Engina australis (Pease, 1871)
Description: Shell solid, whorls rounded. Axial sculpture of about 13 strong, broad axial folds. Spiral sculpture of over-riding strong, smooth ribs, about nine on the penultimate whorl, the uppermost two close, remainder with wider interspaces. Outer lip thickened internally and externally, with about 12 strong, short lirae. Columellar callous expanded, outer edge free standing in some shells, wrinkled along entire length, with a strong ridge beside anterior canal. Anal canal bordered with denticle on outer lip and on parietal wall. Irregularly patched with cream and dark brown, usually with a broad cream band at bottom of each whorl and around centre of body whorl; columella and outer lip tan, deep interior of aperture white.
Size: Up to 15 mm in length.
Distribution: Endemic to Australia; Ballina, NSW to Twofold Bay, NSW. Wilson (1994, p. 93) follows Macpherson & Gabriel (1962) in extending the range to Port Fairy, in western Victoria (as Maculotriton australis). That record is based on Pritchard & Gatliff (1898) in which they report "Cantharus australis Pease 1872 Port Fairy (Rev. W.T. Whan)". The present author has been unable to locate any specimens from Victoria, so the record can be discarded.
Habitat: Intertidal and shallow subtidal on rocky shores. Moderately common.
Remarks: A discussion of this species, including protoconch and radula details as well as generic placement, is given by Ponder (1972).