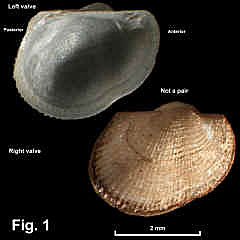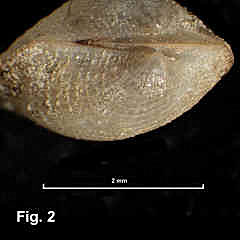 Bathyarca perversidens Hedley, 1902
Description: Shell very small, inflated; inequilateral, not equivalve - left valve larger, overlapping right valve at ventral margin. Shape subrectangular, umbones a little in front of midline, elevated, widely separated. Posterior end extended, broadly rounded; anterior end broadly rounded. Ventral margin rounded, weakly sinuate at byssal gape. Hinge line straight, very finely vertically striated over middle half; elongate horizontally-oriented teeth at ends - 2 at anterior end, 4 at posterior end. Ligament external, merely a short arrow-shaped area at posterior end of hinge (Fig. 2). Interior white, margin crenulate, muscle scars edged by radial ridges, external radial sculpture showing through. Exterior sculpture of equally strong radial riblets and scaley concentric ridges. Periostracum thin, fawn. Shell colour white, in life obscured by periostracum.
Size: Up to 3.5 mm in length.
Distribution: Known from Capricorn Channel, Qld, southwards to Tas.
Habitat: Subtidal, over a wide known depth range of 70-1550 m. In the Australian Museum collection some lots contain dozens of specimens, but live taken examples are rare.
Fig. 1: Top: NE of Cape Moreton, Qld, in 115-124 m (C.432991). Bottom: Off Sydney, 46-73 m (C.432999).
Fig. 2: 7718-1 Hinge and ligament detail. NE of Cape Moreton, Qld in 115-124 m (C.432991)