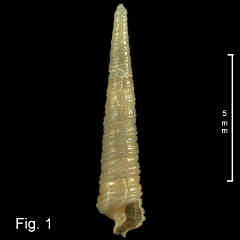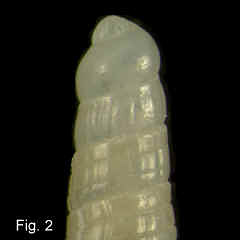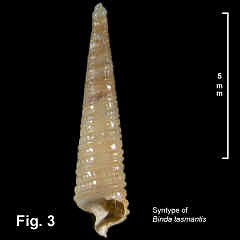 Cerithiella pileata (Cotton, 1951)
Description: Shell medium sized, elongate and narrow, spire straight-sided, up to 15 teleoconch whorls. Protoconch of about 2 smooth whorls, junction with teleoconch indistinct. First teleoconch whorl weakly or strongly axially ribbed. Teleoconch whorls straight-sided or moderately rounded, sculptured with 3 wide spiral cords with narrow, deep interspaces; cords usually smooth, sometimes irregularly nodulose and weakly axially ribbed; lower cord narrower than other two. Basal angle with single weak spiral cord; base smooth. Aperture subquadrate, outer lip thin, irregular, smooth internally in mature shells. Columella strongly twisted, anterior canal moderateley long, upturned. Shell colour translucent fawn or white.
Size: Up to 11 mm in length.
Distribution: Endemic to Australia; Broken Bay, NSW, southwards and around southern Australia to Great Australian Bight, WA, including Tas.
Habitat: Subtidal, 70–900 m. Moderately common.
Synonymy: This species was first described as Cingulina insignis May, 1911, with type locality 40 fathoms (70 m), 3 miles (5 km) east of Schouten Island, Tasmania. The Australian Museum holds four paratypes of May's species. Comparison of these with the holotype of Binda tasmantis Laseron, 1951 shows them to be the same species (NEW SYNONYM). Marshall (1978) had earlier come to the conclusion that Binda tasmantis Laseron, 1951 was the same as Euseila pileata Cotton, 1951 and used Cotton's name for the species, that being earlier by a few months. But more recently, Marshall (2016) has referred pileata Cotton, 1951 to the genus Cerithiella. The name for the species would become Cerithiella insignis (May, 1911), but that name is preoccupied by Cerithiella insignis (Jeffreys, 1885). The next name available for May's species is pileata (Cotton, 1951) so the name used here is Cerithiella pileata (Cotton, 1951).
Figs. 1, 2: Off Sydney, NSW in 150 m (C.207848)
Fig. 3: Off Crookhaven, NSW, in 55–64 m (C.102764 SYNTYPE of Binda tasmantis)