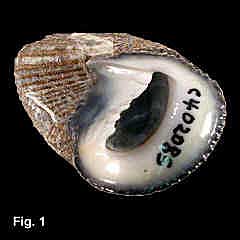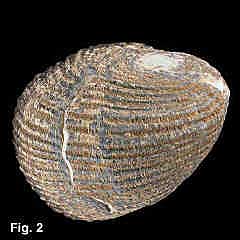 Nerita planospira Anton, 1839
Description: Shell with depressed spire, width greater than height. Sculptured with about 30 spiral ribs, sometimes alternating large and small. Columella deck smooth, with single elongate ridge posteriorly and 3-7 denticles centrally. Outer lip smooth. Exterior dull, black, with white or reddish-brown axial streaks, white sometimes predominating (forming mainly white shells); brown periostracum sometimes present. Columella deck white with black patch at edge centrally, aperture white. Operculum calcareous, smooth, black or grey.
Size: Up to 30 in height
Distribution: Indo-West Pacific; in Australia, NT, through Queensland to Urunga, NSW.
Habitat: Among mangroves in estuaries, on roots and other hard substrates. Common in the tropics, rare in NSW.
Fig. 1,2: Currumbin Creek, Queensland (C.402085)