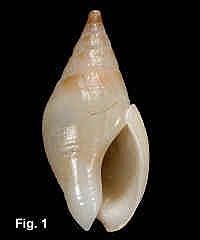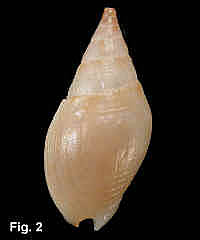 Cyllene lactea A. Adams & Angas, 1864
Description: Protoconch of two smooth whorls, teleoconch about five whorls; spire whorls straight sided, body whorl with broad, shallow groove between suture and periphery. Suture deeply channelled on last quarter of body whorl. Axial sculpture of indistinct ribs, 15-17 on penultimate whorl, often obsolete; absent or extremely weak on body whorl. Spire whorls with spiral striae, 4-5 on penultimate whorl. Body whorl with 4-6 spiral threads on shoulder, centre smooth, base with up to 8-10 spirals. Outer lip thickened, interior of aperture finely lirate. Columella calloused, callus spreading on lower half of body whorl, and with 7-9 oblique lirae. Fawn to light brown in colour, marbled in pale brown.
Size: Up to 15 mm in length.
Distribution: Endemic to Australia; Yamba to Sydney, NSW.
Habitat: Known from dead beach shells, and in depths of 7-49 m. Uncommon.
Remarks: Cyllene royana (Iredale, 1924) is very similar to this species, but has strong axial ribs, 14-15 on body whorl. It is similar in size (up to 16 mm in length), is contiguous in range, occurring from Sydney to Twofold Bay, NSW, and is also known from depths down to 50 m. It is likely that it is a strongly sculptured form of Cyllene lactea.
Figs. 1,2: Sydney Harbour, dredge Triton ((C.312602)