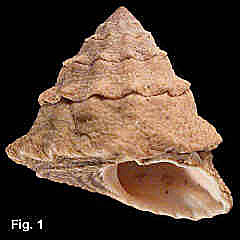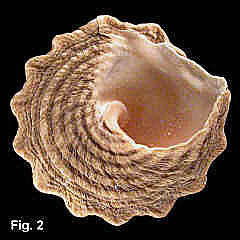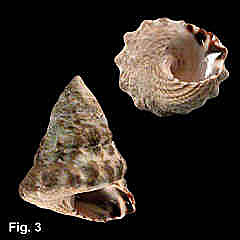 Bembicium auratum (Quoy & Gaimard, 1834)
Description: Shell usually eroded; convex in outline, varying from squat (Figs.1, 2) to tall (Fig. 3) (ratio of height to width 0.64-1.48). Sculptured with nodules at top and bottom of whorls, sometimes joined as axial folds; 11-17 on body whorl, varying from absent to strong. Nodules crossed by 7-11 spiral grooves. Base with 7-11 spiral ribs. Columella smooth, outer lip thin, slightly thickened in adults. External colour cream to brown, usually obscured by erosion, sometimes with brown or black on axial folds. Columella white or pale brown. Interior of outer lip cream or dark brown, usually with 1-4 brown stripes at edge.
Size: Up to 27 mm in height, commonly around 15 mm.
Distribution: Endemic to Australia; Lizard Is., Queensland, around southern Australia to Perth, WA, including Tasmania.
Habitat: In estuaries and inlets, on the roots and trunks of mangroves, and on mud, rocks and oysters; also sometimes on sheltered rocky shores. Lives in the lower half of the intertidal zone. Abundant.
Comparison: See B. nanum.
Synonymy: This species has frequently been misidentified as Bembicium melanostoma (Gmelin, 1791). The synonym Bembicium kielmannsegi (Zelebor in Dunker & Zelebor, 1866) has been used in some Australian literature, including Iredale & McMichael (1962). Reid (1988) gives a full synonymy.
Remarks: This biology, ecology, and taxonomy of this species has been extensively studied and is reported in detail by Reid (1988). In the family Littorinidae, sexes are separate and fertilization is internal. The male bears a penis to the right of the head, used to transfer sperm to the female. In this species gelatinous egg masses are deposited by the female in clusters on the undersides of shells or stones in rock pools. The period of spawning varies from place to place, but occurs mainly in winter and spring. The egg masses are small, bean-shaped jelly masses each 2-2.5 mm long, containing 60-100 creamy white eggs (Anderson, 1962). Veliger larvae hatch from the eggs after 10 days, and enter the plankton as free-swimming individuals. The time spent in the plankton is unknown. On settling out on the shore there is high juvenile mortality and slow growth of the survivors. At Patonga, NSW, shells reached a maximum size of 16-19 mm diameter after three years, with a mean growth rate of 0.58 mm per month (Muggeridge, 1979). The diet is microalgae on the surface of the hard substrate or the mud on which they live. Predators appear to be few; predation by crabs is low, presumably because of the strength of the shells, and birds and fish do not contribute significantly to mortality.
Figs. 1, 2: Port Hacking, NSW (C.319107)
Fig. 3: Nelson Bay, Port Stephens, NSW (C.144288)