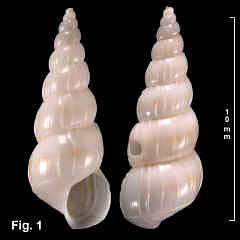 Amaea xenicima (Melvill & Standen, 1903)
Description: Shell tall and slender, with up to 10 teleoconch whorls. Protoconch of 4 smooth whorls. Teleoconch whorls rounded, with low, thin, axial ribs. Ribs regularly spaced on early whorls, irregularly spaced on latter whorls; 10-16 ribs on last whorl. Interspaces with spiral grooves, variable in strength. Low, strong spiral cord at bottom of whorls. Last whorl weakly angled above base, with low, strong spiral cord below. Aperture oval, lip with normal rib externally. Umbilicus closed. Colour white to tan, white specimens with spiral row of brown patches above basal rib.
Size: Up to 16 mm in length.
Distribution: Indo-West Pacific; in Australia, known from Albany Passage, Cape York, Queensland, southwards to Sydney, NSW.
Habitat: Most specimens available are empty beach shells. Uncommon.
Fig. 1: Yeppoon, Queensland (C.208096)