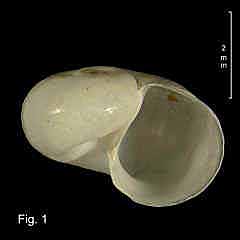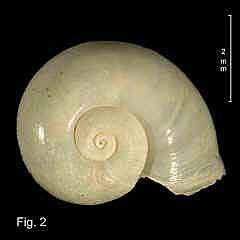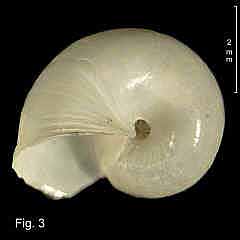 Choristella ponderi McLean, 1992
Description: Shell small, lightweight, spire low, aperture about three-quarters of shell length. Protoconch smooth, with well-defined junction to teleoconch. Teleoconch whorls 3, rounded, suture deep, axial and spiral sculpture absent apart from fine growth lines. Aperture wide, peristome complete, outer lip a little flared anteriorly. Umbilicus narrow, deep, with a spiral ridge internally. Colour white, periostracum thin, colourless. Operculum corneous.
Size: Up to 4.7 mm in length.
Distribution: Endemic to Australia; North Reef, (off Yeppoon), Queensland, southwards to Kiama, NSW, in 100-500 m.
Habitat: Lives inside spent egg cases of sharks and rays. Uncommon.
Comparison: This species has a typically trochiform shell, but may be distinguished by several features. The shell is very thin and fragile, the suture very deep, and the peristome is entire. There is an umbilicus, which internally has a steeply-descending spiral ridge.
Figs. 1, 2, 3: Of S end of Fraser Island, Queensland, in 201 m (C.155463)