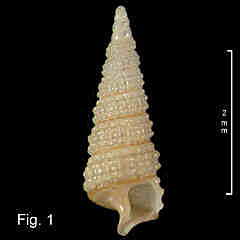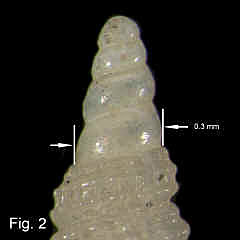 Tubercliopsis filofusca (Laseron, 1951)
Description: Shell medium is size for family, conical of moderate width, spire straight in outline. Protoconch of about 4 whorls, smooth, with distinct junction with teleoconch. Teleoconch whorls convex with deeply impressed suture; 3 spiral cords per whorl with top of 4th spiral partly exposed above suture on each whorl; interspaces 1 to 2 times cord width; last whorl with 4th spiral fully exposed. Spirals crossed by weaker axial ribs, forming beads at intersections; about 18 ribs on last whorl. Base concave, smooth. Outer lip thin, immature and broken in all syntypes. Anterior canal a deep U-shaped notch. Shell translucent, fawn, spiral 4 mid-brown, forming brown line at suture.
Size: Largest syntype 4.4 mm in length, with protoconch missing.
Distribution: Syntypes from off Long Reef, Collaroy, NSW, in 26 m. Additional specimens (4 lots): Fingal Bay, Port Stephens; Manly Beach; Manly; Ocean Beach at Bendalong
Habitat: Syntypes from 26 m, other specimens from beach washup.
Figs. 1, 2: Off Long Reef, Collaroy, NSW, in 26 m (C.102760, SYNTYPE)