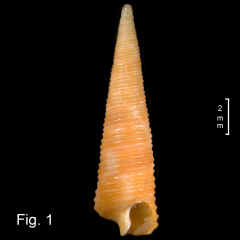 Seila crocea (Angas, 1871)
Description: Shell very large for the family, narrowly conical, spire straight sided. Protoconch of 2¾ whorls. Teleoconch with straight-sided whorls, suture indistinct. Whorls sculptured with 4 strong spiral cords with interspaces equal to width of cords; spiral 4 weaker than spirals 1-3. Interspaces between spirals with fine axial threads, prosocline between spirals 1 & 2, orthocline between 2 & 3, opisthocline between 3 & 4. Base with a further weak spiral, then concave and smooth below. Outer lip of aperture thin; inner lip lightly calloused. Anterior canal a deep U-shaped notch. Colour orange, sometimes with paler axial splashes.
Size: Up to 30 mm in length, usually less than 15 mm.
Distribution: Endemic to Australia: Caloundra, Queensland, southwards and around southern Australia to Perth, WA, including Tasmania. Uncommon. (30 lots).
Habitat: Most specimens are from beach washup, but there are several taken subtidally, down to 82 m.
Comparison: See S. atkinsoni.
Synonymy: Seila magna Laseron, 1951 (NEW SYNONYM). The large, orange Seila species found in NSW, and around southern Australia, had been recognised by authors as Seila crocea (Angas, 1871) since it was described, including by Hedley (1918). However, Laseron (1951) disagreed, because he considered that Angas' original description could not apply to the species. He erected a new name Seila magna Laseron, 1951, because of "its exceptional size and its bright orange colour." For Seila crocea (Angas, 1871), Laseron figured and descried a shell, which in his view, fitted Angas's description better. However, I have no difficulty in recognising the large orange Seila in Angas' description and figure, and prefer to use Seila crocea (Angas, 1871), so Laseron's name becomes a junior synonym of S. crocea.
Fig. 1: Long Reef, Collaroy, NSW (C.434350)