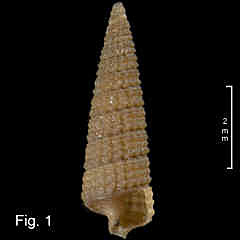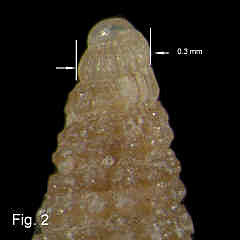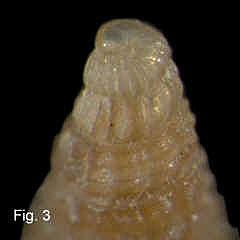 Pilaflexis regularis Laseron, 1951
Description: Shell large for family, narrowly conical, spire straight or very weakly convex in outline. Protoconch of 2 whorls, blunt, whorls with strong axial riblets. Teleoconch whorls flat with suture distinct; 4 spiral cords per whorl. Last whorl with spiral 5 level with top of aperture. Spirals crossed by axial ribs, weak in interspaces between spirals, forming broad, spirally elongate irregular tubercules at intersections; about 17 axials on last whorl. Base concave, smooth. Outer lip thin. Anterior canal bent back sharply. Shell light brown in colour.
Size: Up to 8.5 mm in length.
Distribution: Syntypes from off Point Haliday, NSW, in 8–10 fathoms (14–18 m). Laseron also reported it from off Long Reef, Collaroy, NSW, in 14 fathoms (25 m), but these specimens cannot be found in the Museum collection. Additional material available (4 lots): Port Stephens Harbour; Cronulla; Twofold Bay, 37 m; Long Reef, Collaroy
Habitat: Shallow subtidal and beach washup.
Remarks: Laseron described a similar species as Pilaflexis oculis Laseron, 1951, differentiating it from P. regularis "by the lens shaped tubercules, elongated in the line of the keels". The types are not available for illustration and no specimens have been identified among unsorted material. Laseron's figures (1951, pl. 36, figs. 22, 22a) show the nodule shape to be substantially different between the two species.
Figs. 1, 2, 3: Port Stephens Harbour, NSW, in sponges. (C.506323)