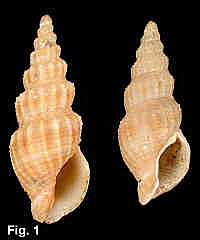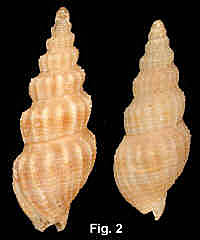 Fax tabida (Hedley, 1904)
Description: Shell tall, slender, of about 6 rounded whorls, weakly shouldered at the top third; straight to weakly concave above the shoulder. Sculptured with slightly oblique axial ribs, originating at the shoulder, more pronounced on the spire, and obsolete on some specimens; 13-24 on the body whorl. Spiral sculpture of broad, low, poorly defined ribs forming weak nodules where they cross the axial ribs. Outer lip with about 10 lirae internally on mature shells. Columella smooth. Colour uniformly fawn internally and externally.
Size: Up to 27 mm in length, commonly 20 mm.
Distribution: Endemic to Australia; Crowdy Head, NSW, to Lakes Entrance, Vic, in 73-384 m. Moderately common.
Figs. 1,2: 12 miles S of Montague Island, Victoria, in 119 m (C.367363)