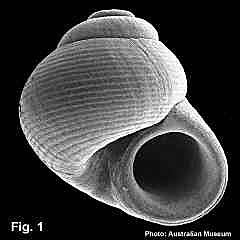 Charisma compacta Hedley, 1915
Description: Shell small, solid. Whorls four, separated by channelled suture. Spire whorls smooth, body whorl sculptured by about 20 regularly spaced, sharp spiral grooves. Aperture circular, outer lip simple. Umbilicus about one-eight of the basal diameter, its margin smooth and rounded; an obscure funicle within. Colour pale cream.
Size: Up to 3 mm high.
Distribution: Endemic to Australia; Central and northern NSW.
Habitat: Known only from 14 fathoms off Sydney, and 100 fathoms off Port Macquarie. Rare.
Comparison: Two smaller species of Charisma have been described from shell sand at Port Stephens. Charisma (Cavostella) radians (Laseron, 1954) is similarly sculptured to C. compacta, but is shorter and wider with width up to 1.9 mm. It is distinguished by a number of radiating furrows indenting the margin of the umbilicus (Figure: Laseron (1954, p. 22, figs. 30, 30a)). Charisma (Cavotera) simplex (Laseron, 1954) is even smaller with maximum width 0.9 mm. In sculpture and shape it resembles C. radians, but it lacks the furrows on the umbilical margin (Figure: Laseron (1954, p. 22, figs. 31, 31a)).