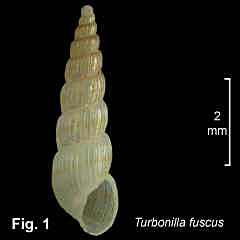 Turbonilla fuscus (A. Adams, 1855)
Description: Shell medium size, elongate and slender, up to 13 whorls. Protoconch coiled (Type B), of about 2 whorls, set on teleoconch with axis inclined at about 110° to teleoconch axis. Teleoconch whorls rounded, sculptured with strong axial folds, on last whorl terminating level with top of aperture; fine spiral threads between axials. Aperture teardrop-shaped, columella without plaits. Shell translucent white or pale brown becoming opaque with age, with a spiral brown band around middle of whorls.
Size: Up to 6 mm in length.
Distribution: Clarence River, NSW, southwards and around southern Australia to south-western WA, including Tas.
Habitat: Shallow subtidal, in estuaries and on the open coast. Common.
Fig. 1: Shelly Beach, 8 km S of Yamba, NSW (C.340512)